Full Moon Circles – celebrating the Harvest Moon
September 29th,7:00 pm

-

11:00 pm
Join us for a magical gathering under the luminous night sky. We'll connect, share stories, and embrace the mystical energy of the Full Moon
The Coven of the Moon and Tide are excited to be working with Castle Bromwich Historic Gardens to bring to you their 'Full Moon Circles'.
Who?
The Coven of the Moon and Tide are a traditional, closed UK coven based in Birmingham. As well as being a fully working closed coven they work hard within the pagan community to bring pagan knowledge and ceremony to the public.
What?
Full Moon Circles are a brilliant experience for those aged 16+ (NB must be accompanied by an adult) who are either pagan and proud, dipping in their toe or completely new to this nature-based way of life and keen to learn more.
You will meet the coven and have a chance to chat in a social relaxed setting before moving to the circle sites to listen to fantastic lunar folklore that corresponds with the full moon. In this case it is the Harvest Moon.
Following this you will create circle, a sacred space to welcome the full moon's potent energy for healing, grounding, connecting and empowerment. There will be opportunity for manifestation and intention setting, guided meditation and of course self-reflection.
This can have quite the emotional impact so there is time following this to take space for self, then join the group again on the terrace to create community.
The event starts at 7.30 ish and will finish at 11pm.
(No entry after 8pm)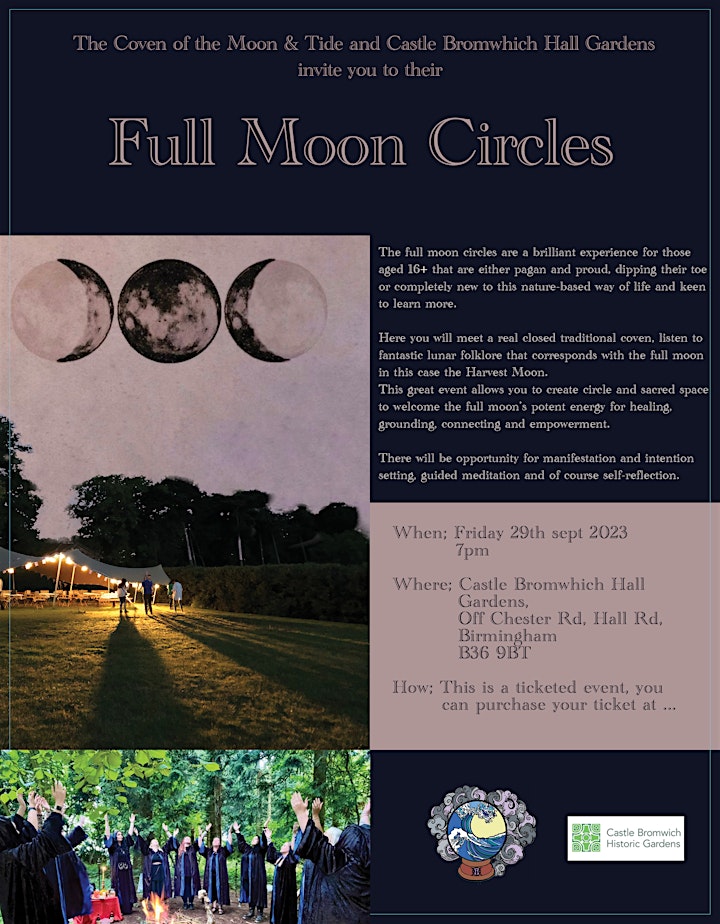 Related Events